If you are not 100% satisfied with your purchase, you can easily get a full refund from us without explaining the reasons.
Electric Mosquito Killer/Insect Trap/Bug Zapper with 360 Degrees LED Trap Lamp, Strong Built-in Suction Fan, USB and Charger adapter Power Supply, Chemical-Free and Quiet for Indoor.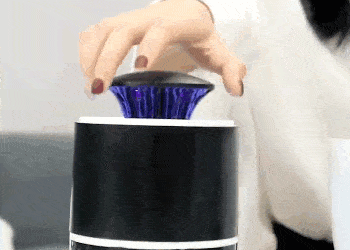 USB Insect Zapper removes insects from your home or work environment easily and effectively. BUZZ B-GONE uses UV light to attract insects and a powerful 360-degree suction fan to capture them. It kills without the use of chemicals and is perfectly safe for children and pets.
Once they approach, BuzzBGone's powerful 360° fan sucks them in.
Once inside, they can't escape.
Put an end to itching, burning mosquito bites.
Enjoy summer evenings outdoors without getting bitten.
Working principle
The mosquito trap, carry a 360 degrees window with 365 NM wavelength UV light. Light of this wavelength(between 360~390 NM, especially 365 NM)was like mosquito candy. Flying insects would die for this kind of light. This means the USB mosquito trap, has a deadly attraction to mosquito and flying insects. It attracts these insects to Fly to the light spontaneously, trap them with a strong suction fan, and starve them to die in nature physical way with no chemical harm and no radiation harm for humans and pets.

Non-toxic. One of the most important features of this product is that Buzz B-Gone is completely harmless to people and animals. It neither uses chemicals to kill insects nor emits these chemicals. Unlike most of the mosquito sprays, Buzz B-Gone is allergy-free and poses no risk of harmful inhalation.

Uses UV light. Buzz B-Gone uses a bright UV light to attract bugs and trap them inside the device. Highly effective and completely harmless to humans and pets.

360-degree fan. Buzz B-Gone features a strong fan that rotates 360 degrees and sucks all the unwanted bugs inside.

Quiet. You might want to give some time to appreciate how quietly this device works. Thanks to this feature you can leave this device running all night without hearing a sound that could disturb your sleep.

Effective. Buzz B-Gone has proven to be a highly effective device that repels not only mosquitos but other bugs as well.

Easy to use. Cleaning the collection tray is as easy as ABC and the only thing you need to do before getting this device started is to charge it using a USB port.

Rechargeable. Do not worry about changing batteries! You can recharge this device using any gadget that has a USB port, be it your computer or a power bank.

Portable. Thanks to its lightweight and compact design you can take Buzz B-Gone anywhere you go! Get ready for the bug-free camping trips and summer parties!
How Does It Work and How to Use It?
Do you know that moment when you're chilling at home with a window opened and the lights on and you suddenly realize that your room is full of mosquitos and other bugs? That's because they are attracted to light. And, as it turns out, they are even more obsessed with ultraviolet lamps. That's what Buzz B-Gone features in all its glory. The UV light phototaxis of this device lures the bugs to its core where the ruthless 360-degree fan sucks them into the base where they remain trapped. All of this is done quietly so you won't even notice this device working. What you need to do is to clean the collecting tray every once in a while. Simple? Yes! Buzz B-Gone needs a USB port for charging and once you do that, you're good to go!
How Many do I need?
For homes that often have mosquitoes inside, we recommend purchasing 2 or more, a unit for each living room and bedroom to maximize the area of protection for a typical household. If you infrequently have mosquitoes in the house, we recommend starting with a unit near each main entrance to the home.
Power: 5W

Material: ABS

Voltage: DC 5V

Frequency: 50Hz

Voltage: 110-220V

Lifespan: 50000hours

Wavelength: 365nm to 395 nm

Small Use Range: 12 square meters

Large Use Range: 25 square meters

Product weight: 400g(Large), 274g(small)

Small Dimensions: 13cm*13cm*14cm / 5.1 x 5.1 x 5.5 inches

Large Dimensions: 13cm*13cm*19.5 cm / 5.1 x 5.1 x 7.7 inches