Garden Planting Grow Bags come with new transparent design, able to check plants status any time. The transparent belt is made of strong and high-quality PVC to make sure grow bags stand up well to heavy harvests.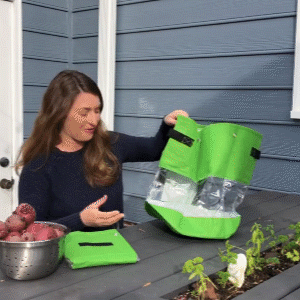 【Transparent & Harvest Window 】- Garden Planting Grow 10 Gallon Bags with flap are equipped with the new transparent design and a visualization window.You can check plants status any time without bothering to open the velcro window.Until it's rape ,you can harvest it from the large window easily.
【Non-woven fabric & healthy growth】- Double-layer design of breathable fabric, to keep plants growing healthily. The 10-gallon plant growth bag in this flowerpot provides a lot of space for the roots without the need to hover. Promote the growth and yield of potatoes or other vegetables.It is best planters choice grow bags for vegetables gardening fabric pots.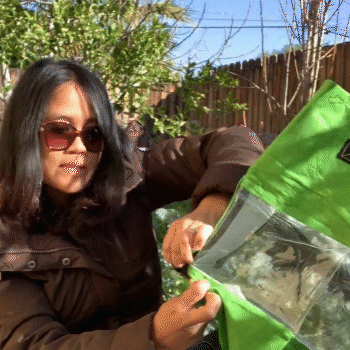 【Easy to move】- With two sturdy handle straps, the flower pot can be easily moved to different positions, suitable for terraces, small gardens, sun rooms and any outdoor spaces, a reusable garden bag made of environmentally friendly materials.
【Reusable】- Wash and dry after harvest for use in the next growing season. It can be used to grow potatoes, taro, radishes, carrots, onions, peanuts and many other vegetables, it can also be used to store unused items such as dirty clothes and toys.
【 Large Capacity 】- 10 gallon grow bags with large room to let the roots to grow without swirling or growing in a circle. It is beneficial to provide a health growth environment for plants.

Specification:
Colors: Green,brown,Black
Volume: 10 Gallon
Material: Non-woven Fabric, Polyester
Dimension: 13.8" Dia × 17.8"H / 35 × 45 cm (D*H)

How to Use The Grow Bags?
Step 1: Put about 2/5 of pre-mixed fertilizer-containing soil on the bottom.
Step 2: Place 4 to 6 potato tubers evenly into the soil with the shoots facing up.
Step 3: Add soil to cover the potato tubers completely. Please water the plants on time to keep the soil wet slightly until the plants appear on the top of the bag.
Step 4: After a few weeks, the leaves of the plant will become wither and yellow, then you can harvest potatoes directly from the window.
When crops finishes, empty the bag and recycle the soil. Clean the grow bag and store it for next planting.